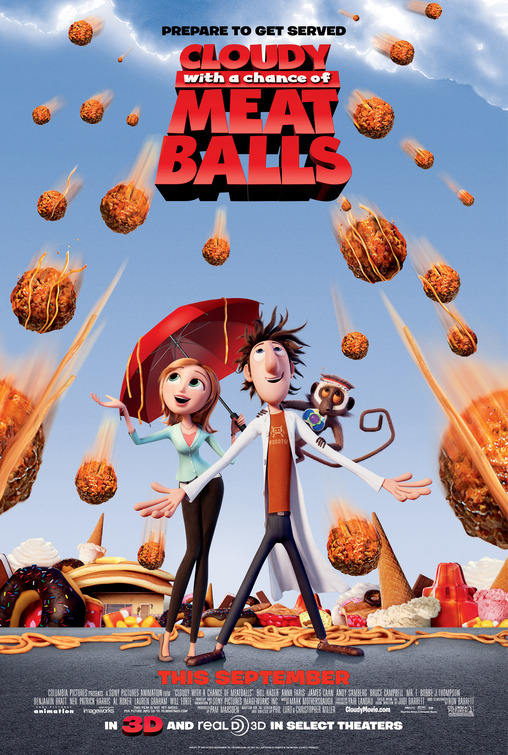 When I saw the previews for
Cloudy With a Chance of Meatballs
, I thought it looked pretty dumb, but then it got rave reviews. And frankly, I trust mass amount of critics. This is why I rely so heavily on
Rotten Tomatoes
. (Also because Eric has turned me into a movie snob.)
We rented this one on Netflix, and we are so glad we finally got to see it. It's based on a kids book (that I've never read) of the same title. The premise is that these people live on an island and eat only sardines day in and day out. Flint Lockwood is an aspiring inventor who has many hilarious failed inventions under his belt. He invents a machine that rains food - good food! No more sardines for their town. And of course, somewhere along the way, things go terribly wrong.
So, the premise is funny enough, but then there are a lot of really hilarious moments throughout the movie, mostly in dialogue, but also in animation. It's one of those movies that is meant for kids but is also really enjoyable to adults, and frankly there are very few movies that are meant for kids that are also actually funny for adults.
Cloudy With a Chance of Meatballs
did not get a lot of media attention. Apparently the studio who made it was eager for it to get to DVD, which made a lot of theater operaters angry. Many of these theater operators chose to really limit their showings of
Cloudy
. Consequently it was short-lived in theaters and poorly publicized throughout. It really is too bad because it was a genuinely stellar animated movie.